About JennyK and this place I call Studio Chaotic
a singer/songwriter and producer of original and at times disturbing music, sporadic blogger and fiction writer, audiobook junkie and living among fields
and dirt roads with husband, dog, and birds. Constantly bewildered navigator of assistive gadgetry.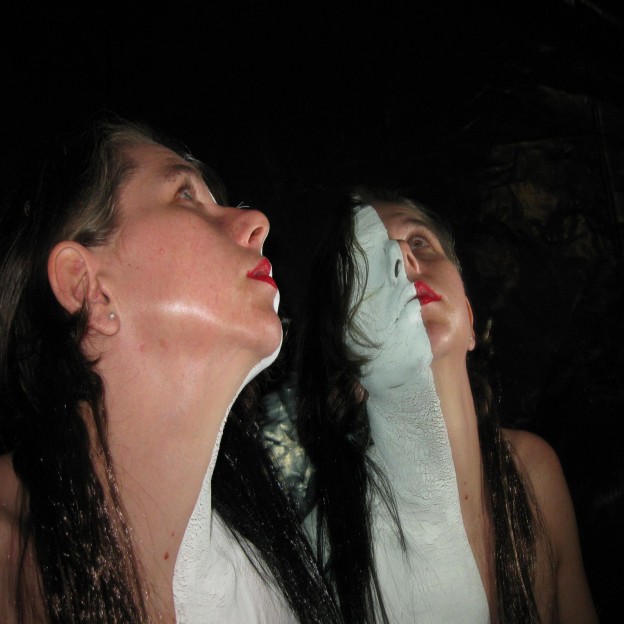 Here goes.
The name is Jenny. My friends call me… erhm, Jenny. I was born in Sweden, grew a little, and realized with time that I had brothers , parents, animals all around me, and that I would never get a little sister. That was okay though as I wouldn't have known what to do with such a creature. I went to school, learned a little, and realized with time that life was beautiful, scary,, full of bad people and so many untold stories and dark dark secrets.
Fast forward through all of that confusion; The crushing absurdity of grown ups, a time of trying to be goth, through failed attempts to become an alcoholic, friends dying, friends gained, pets living out their lives. Forward further through the drama of this crush and that, highschool, college, job, boyfriend, engagement, and my first guitar.
I had written poetry and weird stories and started putting music to them in the late nineties. I had done much writing of weird stories and awful poetry and I wanted to put some of that to music. You know those dark dark secrets and grown up absurdities? Well, they take their toll on children and that was what the music was all about for a long time. What happened is not important. The person it made me into is though.
Nicely timed, my vision started failing. Retinitis pigmentosa. To be totally honest, it didn't bother me all that much. I would come to regret that attitude for the next ten years. But at this point and after the fact; It really doesn't bother me that much. Being bothered by what can't be changed is such a waste of energy.
Another fast forward through slow but steady loss of eyesight, quitting my job in computers and moved to Canada, it took me six years to go blind and another six to get back in the seat. I realized there were gadgets and software seemingly created just in time for me to need them. I learned a little. Then I learned more. And here I am.
The last few years I've been trying to catch up even if I know it's futile.
The state of things
Here's a few of the things I've dived into head first, never regretting it. Much. 😀
Writing characters and code.
National novel writing month. The challenge is to write 50 000 words in a month. Fantastic experience, very satisfying to finish. Read the first chapter of the as of yet unfinished novel "Doggy snatchers" here.
Then I missed playing games so figured I could write interactive fiction. My first completed game took two years to write. You can read about and play it by going to the Crystal and stone, beetle and bone page.
I realized that my grammar was a bit… lacking so I dove into all of that fun stuff. Joined Protaganize – a collaborative creative writing site, and later on I needed harder blows to the confidence by entering Scribophile – A place for serious writers to critique, be critiqued and network..
Heading into serious music land.
I kept on the self punishment trail by entering Mixlessons.com with Dezz Asante and almost finishing the course. I spent a few months on Dueling mixes with Joe Gilder and Graham Cochrane.
I spent a few valuable months as VIP member on
Home studio corner where Joe Gilder runs the show.. Now I have almost a year in on
Kompoz- where musicians worldwide collaborate. where I have found my musical home on the net.
I still write fiction when I get that urge and some of it is here for you to read. Don't hesitate to comment. Let me know what you think about anything I do. I really want to know. If you want to blog on Studio Chaotic, all you need to do is to register and make contact. Let me know what you want to talk about; where your head is at. I'd love to have you join the studio.
The studio Chaotic philosophy
Studio Chaotic is more than a place to collect my social networking links and is more of a refuge for me. Here, I have full control and even though being webmaster can be tricky, I need this space. I refuse to litter my pages with ads as they are distracting and I believe destructive. I want this to be a calm place where nothing is off limits but respect and common sense is expected. I have at long last found a spam killer that works and there is no captcha, no spam, no pretend user registrations. No viruses, no malware, no strange scripts. A safe haven.
join me
in this little haven of chaos.
So there you have it. I hope you browse around and find something to your liking and come back soon.
Weird comments and strange ideas are much welcome here.
Enter the feedback page and get creative.
And finally. Music sites and social stuff… and stuff.
Outside of this website my music is scattered and can be found on
SoundCloud, and everything I'm currently working on is at
my Kompoz collaboration page.
Any new music such as
My pumkin – An indie rock collaboration with Joey Alomar, Tony Cas, and JennyK, also now available to buy on the only online music store that matters;
SoundBlend.
SoundBlend is an online music store with songs by home studio musicians. Songs are crowdsourced, created by people collaborating from around the world.
Soundblend is different, fresh, and you can find fantastic music and interact directly with the artists creating it. It's a great way to support independant musicians and their passion for creating the music you love. ,
Forget about *tunes. This is the real thing and we need you to help it grow.
Show your support by dropping in to Soundblend.
This is just the beginning and this is your chance to be part of something huge. 🙂
So, how do I do what I do and with what?
The homestudio consists of a Mackie Onyx 820i audio interface, a Studio projects C1 microphone, an AMD XP machine, a roland A300pro midi keyboard, a Yamaha E403 keyboard, a few acoustic guitars, a couple of electric guitars and miscellaneous junk piled in cupboards. 🙂
Beyond that there are ideas, a chair, a desk, and a custom coffeecup that says JennyK on it.
For access to computer I use a screen reader called Jaws (Job access with speech) which in practice means that the computer talks to me. 🙂 Yeah, I know. But you know, if you know Jaws, you don't need me to give all details, and if you don't know and have no need for it, I'm not going to bore you with details. Search google for "Freedom Scientific Jaws" if you are curious. It is after all a fantastic piece of software and the net wouldn't be at my fingertips without a screen reader.
On the wall you would find a much valued printed HRS diploma, a 2009 DMusic cover contest winner T-shirt, and a 2011 NaNoWriMo winner certificate. Small things that mean the world to me. . 😀
I enjoy the small things. I live in my own world but I also want to know what it's like in your world. I'm looking for guest bloggers, writers of fiction, regular people ar crazy individuals who has something to say.
As a member you can add your first piece and it will be sent to me for review. If it makes me smile, cry, laugh or first of all read until the end; you are in and I may just upgrade you to Author.
Just do it. I want to hear what you have to say, what whacky stories you can come up with, what random thoughts you care to share via Studio Chaotic.
Stay in touch
So, first of all, I'd love to have you
Become a Studio Chaotic member. You can then contribute blogs, fiction, or something totally different.
If that is not your thing and you simply want to know what's going on here while considering it, Do this:
Get notified by email.
And you don't even have to do that. 🙂 You can always just friend me, follow me, say hello.
Facebook
It's all good.
Thanks for reading and Never stop creating. Jen